Geographical Index > United States > Washington > Lewis County > Article # 175
Media Article # 175
---
Sunday, April 15, 2001
In Search of Bigfoot, with a PC
By Laura Porto
Northwest Digital IQ

---
A group of Oregon researchers is using off-the-shelf technology to prove the existence of the legendary sasquatch

It was August of 1999 when Janet Holman* (not her real name) found a bigfoot in her backyard. Riding on her property in rural Chehalis, Wash., with her teenage daughter, Janet thought it was a deer that startled their horses. But a closer look revealed a hand coming out of the briar bushes and a bigfoot—a large, hairy, apelike creature also known as a sasquatch— peeking out. "I couldn't believe what I was seeing," Janet said. Her horse turned and bolted, and the bigfoot was gone.

These days, the family is more comfortable with their visitors, who are the focus of a new project launched by the Bigfoot Field Researchers Organization, an international group founded in 1995 that is attempting to verify the elusive creature's existence. The couple's insistence on anonymity, for fear of attracting fanatics and bigfoot hunters, makes their situation a perfect test case for the BFRO, said Thom Powell, the BFRO's curator handling the case and an 8th grade science teacher at Robert Gray Middle School in Portland.

In the past, bigfoot hunters have used tripwires, microphones, cameras—in 1967 in Bluff Creek, California, a bigfoot was supposedly filmed with a 16mm movie camera crossing a stream—and good old-fashioned tracking methods in an attempt to pull the mythological veil off the creature. But now, an organized group is stepping up the effort with computers and software. The group's founder is Matt Moneymaker, a San Juan Capistrano, Calif. ecommerce developer.

"The eventual goal," Moneymaker said, "is to be able to show what these things look like, to have a window onto their world via technology inserted into their world."

Toward this goal, the BFRO began installing a surveillance system at the Holmans in December last year using inexpensive, consumer-grade equipment. The system's architect is Vaughn Hughes, a senior software engineer at Intel in Portland.

Webcams in the Woods

The system centers around an old Pentium MMX PC and a combination TV/VCR set up in a back room of the Holmans' house. The PC runs Eyes&Ears video capture software and has an Intel Create & Share Camera Pack PCI Modem card hooked to a $70 Ramsey Electronics Mini-Peeper CCD Video Camera about 50 feet away: a tiny webcam, chosen because of its sensitivity to near-infrared light. Just in case, it's supplemented with two Ramsey Electronics illuminator kits using LEDs for illumination. The VCR records all footage to VHS videotape, which the Holmans must change every eight hours.

While all the tapes must be reviewed manually later, Eyes&Ears simultaneously waits to detect a change in the baseline picture. When it does, it saves a still frame to disk and a script sends it—via good old FTP—to a password-protected Web site for remote viewing every four hours.
This setup is not without problems. The webcam, with the circuit board exposed, was never meant to be in the outdoors and had to be weatherproofed using wax as a sealant. In addition, the illuminators only light the area for 10 feet.

The BRFO already has a higher quality camera on order and expects its arrival in late March. The $500 Extreme CCTV UF 100 [infrared illuminator], encased in a weatherproof housing, [together with a $450 Extreme CCTV EX25 camera have] a 120-foot range of infrared viewing. It also includes a video transmitter that will allow Hughes to position the camera further away from the house. "It should get really interesting once this is in place," Hughes said.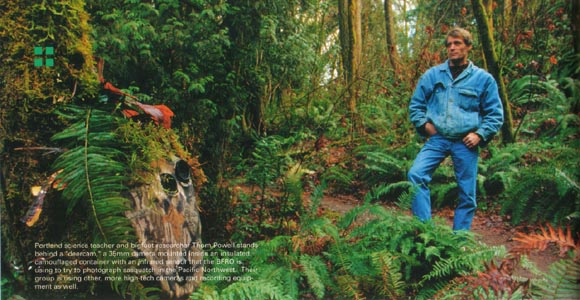 Portland science teacher and bigfoot researcher Thom Powell stands behind a "deercam," a 35mm camera mounted inside an insulated, camouflaged container with an infrared sensor that the BFRO is using to try to photograph sasquatch in the Pacific Northwest. Their group is using other, more high-tech cameras and recording equipment as well.

Photo by Matt Hagen



The challenges for choosing technology were many, according to Powell. The first attempt to photograph a bigfoot on the property involved a motion-activated still camera with weatherproof housing, the kind often used by deer hunters to monitor activity in an area. Powell tempted the bigfoot into the area with treats such as fruit and candy. Powell was convinced that they successfully got the animal to take their bait, in the form of treats, but it wasn't triggering the camera, he said, theorizing that the bigfoot's thick hair may not allow enough heat to escape to activate the camera.

To remedy the situation, they upgraded to an X-10 Night Watch Surveillance Camera, only to find that it used CMOS

[imager]

instead of CCD

[imager]

, which didn't pick up any near-infrared light and required visible light. To illuminate the monitored area, Hughes pointed the Holmans' porch light in the direction of the camera, but the lighting was poor, and the camera didn't capture clear images. It was replaced in early February.

"The sooner we can get some good images, the more compelling this will be to the skeptics," said Powell.



I Want to Believe



Up until a couple of years ago, Powell was a skeptic himself. It wasn't until moving to rural Oregon and talking to neighbors with similar experiences that he began to seriously consider the existence of bigfoot.

Today, after investigating almost 200 sightings in the past four years with the BFRO, as well as experiencing "something big and spooky" moving around his camp site on the Chehalis property, Powell is a firm believer. It was a move to a rural area outside Portland that finally convinced him.

"There's a bias that comes from urban living, that we would know by now whether they existed or not," he said.

Not influenced by that bias, Powell and fellow curator Hughes are dedicated to documenting the creature, so much so that they've funded most of the project themselves up to this point. The next step, however, is out of their financial reach. The best equipment, including a customized VCR that captures images using time-lapse technology hooked up to 16 cameras costs upwards of $80,000—money that, as an all-volunteer organization, the BRFO does not have.

Though it wouldn't be unwelcome, the goal here isn't to photograph a bigfoot. Instead, the BFRO researchers are hoping to gain enough evidence and generate enough interest to attract a sponsor. Their short list includes Paul Allen, backer of the alien radio signal detection project SETI (Search for Extraterrestrial Intelligence), and Joe Firmage, founder of the Web consulting giants Serius and USWeb, who went public with an alien encounter in 1998.



Bigfoot.net



But with or without backing, the BFRO has continued to operate using the Internet as its life force since 1995. There are 25 curators scattered across the United States, in addition to three in Canada and one in England. While Hughes has only met a few of them, he said they work very closely together. "That interaction is enabled by the Internet," he said.

The BFRO also hosts a mailing list that provides a forum for curators to discuss subjects ranging from investigations going on around the country to operational logistics and report management. The mailing list, which receives about 10-15 messages daily, also brings specialists into the discussion, which, according to Hughes, would not be possible without the Internet.

The group of people who started the BFRO has been communicating "the old-fashioned way," by phone and by mail, for years, Moneymaker said. "When the Internet came along those people connected with each other...and eventually out of that group we formed the BFRO."
Moneymaker describes the Internet as a watershed for sightings as well. "The biggest problem that was holding back inquiries was the delay, the amount of time it took for people to find out about sightings," he said. "Without the medium of the Internet those people would never have found anyone who was seriously interested in this subject."

"For a lot of people it is a relief that there are hundreds of people each year that have these sort of experiences," Hughes said. "They're not the only ones these things are happening to."

Hughes is now working on entering old sightings into a database

[actually an army of dozens of volunteers is doing so]

so that researchers can run reports and track patterns. According to Hughes, 15 to 30 sightings come in via the BFRO Web site (http://www.bfro.net) each week, and on average, about 10 of those turn out to be legitimate.

"Many investigations don't get far before we determine them to be a hoax," Powell said. One tip-off is when people ask about publicity or money.

Moneymaker also credits the net. "The Internet [has] made the geographic picture more clear," explaining the relationship between deer and elk populations and bigfoot sightings, he said. Bigfoot are "taking advantage of the overpopulation of these prey species, pulling them into areas where they usually wouldn't go," he explained.

The BFRO's webcam has not yet documented a sighting, but Powell and company aren't ready to give up. Neither are Janet and Bill Holman. "At first, when I realized what they were doing, I wanted to move the bed," Janet Holman said, speaking of the noises heard and the footprints found near her bedroom window. "Now it's like I don't even care."

The family's comfort with the creatures only increases the chances of getting some footage, Powell said. The couple's teenage daughter is so comfortable with the bigfoot that she imitates their howling when she hears it, calling back to them in a sort of dialogue. Powell describes the howl as a combination of laughter and screaming. "It tells you that there's something with a lot of lung power," he said.

While Powell said the creatures are very smart and often notice and avoid cameras, he added that he hopes they get used to the onsite equipment over time.

"The more equipment we can get ... the more chance we'll have at getting solid evidence," Powell said. "And that's where we want to go."

That's where Janet and Bill want to go too, they said. "A lot of what we want to do is prove they do exist ... and seek protection for them."

That "throws an enormous monkey wrench into public land," said Powell, adding that the bigfoot would become the "ultimate endangered species" and bring organized opposition to any type of video documentation they get, he said.

Powell is dedicated to his mission of capturing a bigfoot on tape. In fact, the following step may be harder, he said. What happens after? "You get ready for a lot of ridicule," said Powell.

Ridicule or not, Moneymaker dreams of the day when anyone can view a bigfoot via the Internet. "Eventually [there will be] full streaming audio and video that people can have running on large-size HDTV screens," he said. "To us that is a futuristic thing but not far around the corner, and we want to be the first ones to do it ... the first ones to pump live wildness in to urban spaces and make it accessible."

"We will achieve that someday," Moneymaker said, "and when we do, it will be a big deal."
---
Bibliographical Information:
Published in the March/April 2001 edition of the magazine.
---
BFRO Commentary:
Corrections to information in the article are shown in this color where inserted.

Follow-up: The 'Wireless Wilderness Project' has been completed with the results of the project now available elsewhere on this site.
---