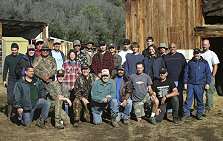 Over the next few days we'll be posting photos and write-ups from participants of the New Mexico Expedition in early September 2004.

The photo of the expedition group above was taken on the last day of the trip at the base camp -- a remote ranch in the mountains of northern New Mexico. Participants came from as far away as New York, Washington and Alabama. As their smiles suggest, all the participants had a great time, and went away knowing they had participated in a historically significant expedition.
During the expedition there were two fairly close range Class A daylight sightings, and at least five close range Class B incidents at night. The daylight sightings didn't last long enough for the witnesses to get photos. One of the witnesses gave chase after the first sighting and got a clear but brief view at less than 100 feet.

Everyone got to hear sounds at some point. Most got to see tracks. Several scats were found and a few samples were taken.
The ranch owner and the local people were extraordinarily hospitable and generous. This was the first time any bigfoot researchers had ever been to this area. The first few days were spent exploring the area and the various places where locals had encounters in the past. As the days progressed incidents were happening closer and closer to the base camp. The last few people to stay at the base camp reported some Class B incidents in the base camp late at night, including chattering and rock throwing.

Check back over the next few days as more info is added about the trip.