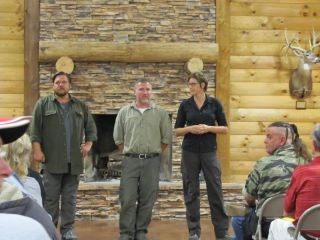 This coming Saturday, January 21st, the cast of the Animal Planet TV series "Finding Bigfoot" will be returning to the Deerasic Park Conference Center in southeast Ohio. Any fans of the show may attend the event, but things get started at 11am. Coffee and snacks will be sold at the snack bar. Admission and parking are both free. There is unlimited parking, but seating in the conference hall is limited -- approx 200 seats.

This event will not involve any type of field investigation in Salt Fork State Park. Rather it will be the taping of the "season highlights" episode for season 2 of the series. It will follow the format of the final season 1 episode in Oregon where the cast sat down with Oregon bigfooters at the "Bigfoot and Beer" meeting to talk about their experiences while taping season 1.
Last time the Finding Bigfoot crew hosted a meeting at the Deerasic Center, there were only 3 cast members present. Bobo wasn't there because he was out for a 3-day solo exploration of the Salt Fork Lake environs. This time Bobo will be there at the Deerasic meeting, so those who missed him last time will be able to get photos with him this time around.

The Deerasic Center is just outside Salt For State Park, which is 20 minutes north of Cambridge, which is 2 hours due south of Cleveland, and 1.5 hours due east of Columbus, Ohio.

We don't know how many people will attend, so if you drive a long way to the meeting, and especially if you bring kids, you should arrive a bit early. It's a bummer when a family with children drives a long way but then has to stand outside.

For more colorful information about this upcoming event, see the article on Cryptomundo.

If you don't have a Twitter account set up yet then do get one (it's free), and don't let anyone talk you out of it. Then follow @MattMoneymaker1 on Twitter to receive notices (even on your smartphone) of upcoming townhall meetings in the U.S. and elsewhere, and occasional tweets about of current flaps (multiple sightings, sounds, etc.) in progress in various part of the U.S. and Canada.