The Skookum Cast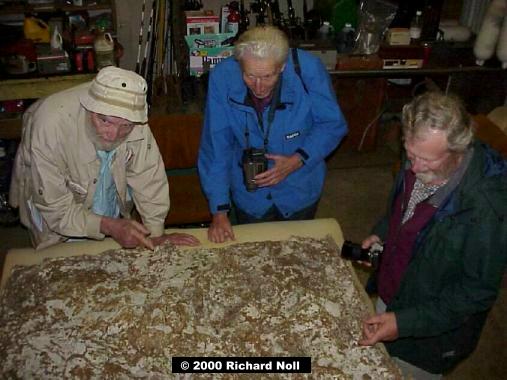 The initial examination of the cast of a partial body print found 9/22/2000 during a BFRO expedition in southern Washington state. The cast is referred to as the "Skookum Cast" because it was found in the Skookum Meadows area of the Gifford Pinchot National Forest.
The photo above shows the cast after most of the mud was removed. Standing beside it at the initial examination outside Seattle, are (from left):
Physical Anthropologist and author, Dr. Grover Krantz
Journalist and author, John Green
Wildlife Biologist and author, Dr. John Bindernagel
Their conclusions: The imprint was not attributable to any recognized animal species. The imprint was most likely made by a living sasquatch.
---
Primate Anatomist Dr. Jeff Meldrum of Idaho State University (shown below) directed the final cleaning of the cast. The remaining mud was removed in a careful, painstaking manner. Hairs of various animals, including one unidentified primate, were extracted from this final layer of mud.