Geographical Index > United States > Washington > Skamania County > Report # 62449


(Class B)
Submitted by witness on Monday, January 28, 2019.
---
Gifford-Pinchot plateau. Multiple knocks and track 11.5 miles WNW of Mt. Adams
---
(Show Printer-friendly Version)
YEAR: 2016/2017
SEASON: Summer
MONTH: September
DATE: 3
STATE: Washington
COUNTY: Skamania County
NEAREST TOWN: Trout Lake
NEAREST ROAD: confidential
OBSERVED: Aug 2016, my wife (then just friend) and I were hiking along a creek in between Mt St Helens and Mt Adams. After the long day we decided to camp at spot that might have been used for a Skagit tower while logging. The tree line ran south and about 40 yards away from us. Sometime after it got dark and we were sitting outside talking when all of a sudden we heard multiple (around 3-4) wood knocks. We knew it was too much of a low hard sound to be a woodpecker. A minute or less later we heard from behind us two distinct knocks. This happened for a few more times.

We silently would point into the direction we heard it coming from as it went on for about 4-5 minutes. I finally had enough of it and started yelling the only thing I knew in the woods. "Hey Bear!" My wife tries to hush me so that it "could come closer". I demanded no and kept yelling.

We saw nothing out of the ordinary the next day. Fast forward Spring 2017. Same area. We are exploring the same area when I came across a very large track in the sand, along the creek bed. I took pics of it with my trekking pole and foot. (Size 10.5-11).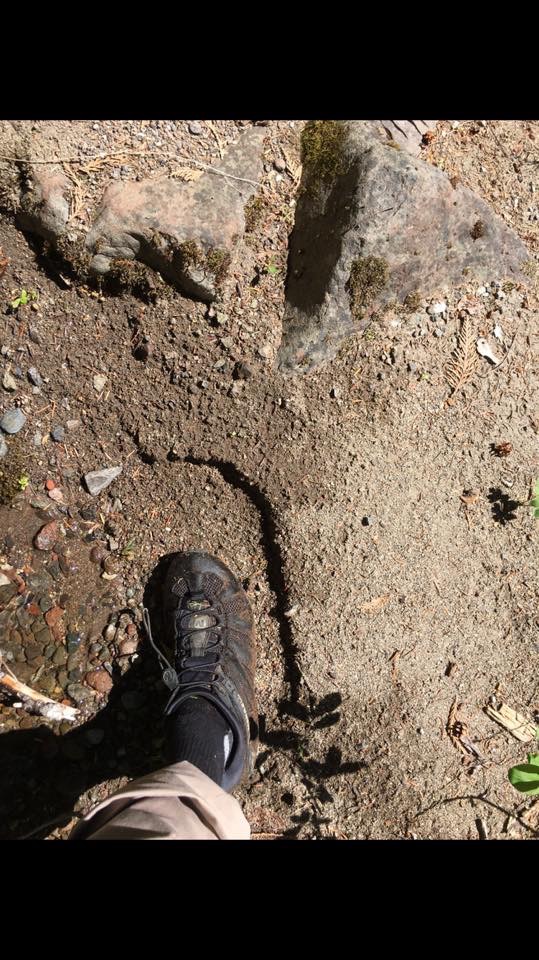 ALSO NOTICED: Nothing else
OTHER WITNESSES: My wife
OTHER STORIES: Yes. Many. It's Gifford Pinchot
TIME AND CONDITIONS: First incident was late at night. Second was midday.
ENVIRONMENT: Forest area with a creek running through it. Multiple water falls. Some clear cuts
---
Follow-up investigation report by BFRO Investigator Kevin Llewellyn:
I talked to the witness by phone.

The actual date hearing the wood knocks was September 3, 2016. They only saw one vehicle of hunters earlier in the afternoon.

Between ten to eleven o' clock at night they heard an exchange of wood knocks back and forth as the witness described. Four knocks in a row, then answered by two wood knocks from a different direction. This continued for about four minutes until he yelled.

They did not hear any walking sounds nor detect any foul odor.

Earlier, they had cooked meat for tacos.

They returned to the area in 2017 and found the track along the creek (see pictures.) It was just one track and the witness thought the track maker may have been walking on the rocks but one step landed in the sand. The next step would have landed on rocks. He did not notice any claw marks.

Investigator comment: This investigator was camped within six miles of this location in July 2016 and had a compelling Class B encounter.








---
About BFRO Investigator Kevin Llewellyn:
Kevin has camped, fished and hunted in Eastern Washington all his life. His interest in Sasquatch began when he was 10 years old and saw Roger Patterson present "the" film. He lives in Eastern Washington.

Recently retired, he was a veterinarian since 1984, after graduating from Washington State University.

He attended Washington BFRO expeditions in 2013, 2014, 2016, 2017 and 2019. Oregon in 2015 and 2018, Montana in 2017 and 2018. He was co-leader of N.E. Washington 2019, Washington 2020, 2021 #1 & #2, and Montana 2020, 2021expeditions.



---
Please send any comments or inquiries to ContactUs@BFRO.net